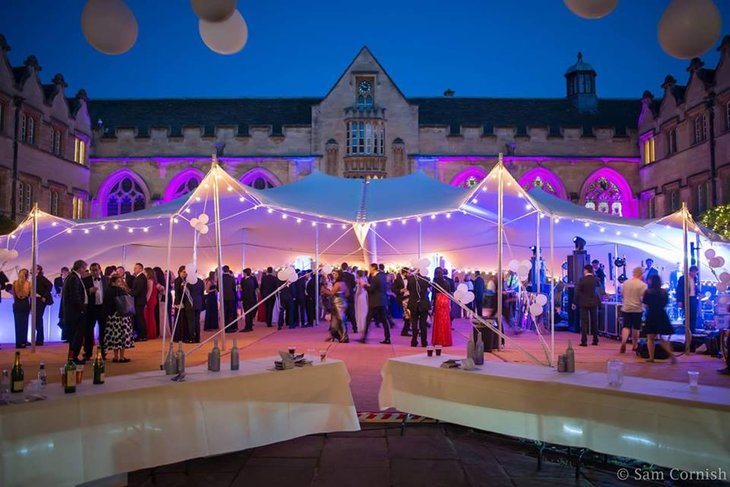 Oxford Leavers Ball
30.06.2016
On a Friday in June over 1000 students were dressed up and in a celebratory mood ready to spend their evening surrounded by friends and tutors, supplied with an array of bright lights and music to lend to the atmosphere.
In preparation for the event Startech proceeded by setting up equipment at 3pm on Thursday with a crew of 7. Everything was ready and in place by 7pm on Friday the following day in time for the event to commence, after which the StarTech crew were back to work. By Saturday morning the equipment had been de-rigged ready to be returned to the warehouse; with the set up and take-down time totalling roughly 2½ days. Preparations preceding the event totalled 2 full days designing.
Providing for such a large event required a large array of equipment, of which audio, lighting and staging were supplied by Startech. Function bands positioned on stage played throughout the night. The main-stage consisted of having Turbo Sound Speakers, a Yamaha Digital sound desk for audio, and accompanying this was a broad selection of live sound microphones. Lighting comprised of Martic Mac 250's, Chauvet Par Hex 12's, and Chauvet Colourband Pix Batons which provided a vibrant and colourful LED display during the course of the ball.
A smaller stage included within its set a YAMAHA DXS and DXR P.A system with another digital sound desk with the usual selection of microphones. Wireless lighting was used around the stage to enhance the visual aspect.
There was further lighting provided for the site, consisting of 400W MBI Disccharge flood lights, garden spikes, and ETC Source 4's, that were a key piece of equipment for providing the flooring with projected light forming the shape of stars to help make the night truly magical. The event was a particularly proud moment for Startech's crew.