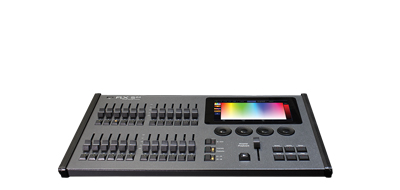 New to Hire Stock – Zero 88 FLX S24 DMX Lighting Desk
27.03.2018
Zero 88 FLX S24 Lighting Control Desk
This little desk is a breeze to use, its first outing  went on a show for Southgate Youth Opera. We handed this desk over to their lighting person Mary, who had never used a DMX lighting desk before let alone a programmable one!
After some instruction she was able to operate the desk competently and with ease. Fixtures that were used were all static and comprised of 26 LED  RGBW and RGBWA+UV units along with a number of generic Source Fours via DMX dimmers.
After the Dress Rehearsal Mary was able to edit lighting states as requested from the show director ready for opening night.
The shows all ran without any hitches. Due to the nature of the space we also implemented the use of our Black Box Wireless Transceivers. 3 of these units were used and  we are very happy to report that they functioned faultlessly.
For more information please call 01865-722522 and we will be happy to demonstrate the ease of use that this desk offers.